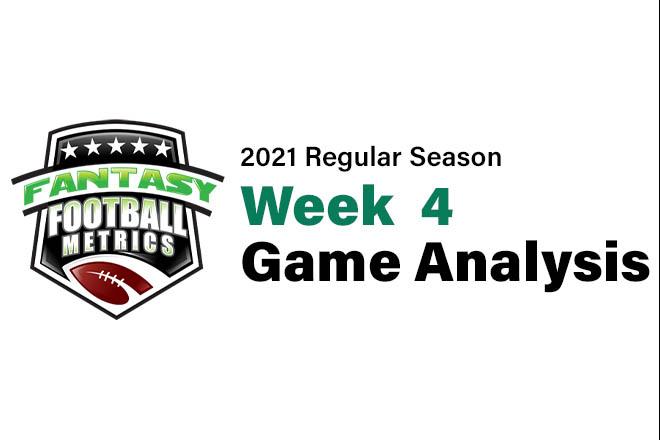 Ross Jacobs
FFM
04 October 2021
2021 Dynasty/Fantasy Game Analysis Week 4: Bengals 24, Jaguars 21
Well, the Jaguars tried. They were up 14-0 at one point after taking it to Cincy early, but the Bengals fought back to tie the game up. At that point the Jaguars were reeling, but they buckled down and scored again to take a 7 point lead. It was not to be though. Cincy responded again with the tying TD and then kicked the last second field goal for the win.
It was a gutsy win for the finally respectable Bengals and a devastating loss for the downtrodden Jaguars.
Cincinnati isn't exactly a good team yet, but they are moving in the right direction. The offense is starting to put some drives together and the defense is no longer a complete pushover like they have been for so many years. I doubt they crack .500 this year, but a 7-10 or 8-9 season might be within reach. If they can continue building around Burrow during the 2022 off-season, this team might actually be in the playoff hunt next year. They still need more offensive linemen and more help on defense, but there's finally some hope for the Bungles.
Poor Jacksonville. They finally showed some spine here and nearly pulled off the win, but ran out of gas at the finish line. Perhaps if they still had Gardner Minshew, Joe Schobert, and CJ Henderson they could have gotten it done. Unfortunately the mastermind known as Urban Meyer rid his team of arguably their three best players, and this is the consequence. It doesn't matter how much heart and effort your team puts in if they aren't also talented. Maybe Meyer can gut his way through a terrible year and start the rebuild next year, but this has been an inauspicious start to his NFL career. Jacksonville is clearly headed for a bad year. If they get to 4 or 5 wins it's going to be a minor miracle. This just isn't a good team on either side of the ball.
It doesn't help matters that Meyer is once again embroiled in controversy after he was allegedly spotted at a restaurant he owns in Ohio with a younger woman that was not his wife. It's just the latest in a string of missteps for Meyer who can't seem to get out of his own way. We'll see if he survives this latest drama, but it's not looking good for him so far.
Fantasy Notes
--Joe Burrow (25-32 for 348, 2 TD/0 INT, 3-4-0) put up a nice stat line here, but something still seems off with him. I can't put my finger on it. Last year you could see in an instant, even with much worse surroundings, that Burrow was talented. He just had this assassin feel where he could carve up a defense with perfect pass after perfect pass. This year it's missing. I don't know if it's his knee, or in his head, or what, but I'm absolutely convinced he's not himself right now. Will we ever get the old Burrow back? Maybe. I don't know. I hope so. But right now he's not in the same league as his fellow 2020 1st rounder Justin Herbert.
--Another year of a billion touches for Joe Mixon (16-67-1, 1-0-0/2) with not much to show for it. Mixon is incredibly talented for sure and he dominates the backfield, but none of that matters if there's nowhere to run. If you have him you just have to hang in there and hope things open up at some point. I don't see why they would however. I'll say it again, they should have drafted Penei Sewell over...
--Ja'Marr Chase (6-77-0/9). I still don't see it. He catches 4 random TD's his first three games and most analysts fall all over themselves proclaiming his greatness. The announcers did it again here, waxing poetic as he caught basic slant passes against a prevent defense, acting like he's the best rookie receiver they've ever seen even as he gets completely shown up by his much less heralded teammate Tyler Boyd (9-118-0/11), who the team didn't waste a top 5 pick on.
Chase isn't special. Rondale Moore is a thousand times the weapon that Chase is, but the media has already decided Chase is the greatest so they're going to jam it down our throats for the next 10 years despite all the evidence to the contrary. Six catches for 77 yards against one of the worst secondaries in football isn't impressive. Chase is the 3rd best receiver, at best, on his own team, and the only reason he got 9 targets here is because Tee Higgins was out for the game.
You can probably continue to use him decently enough for fantasy because his buddy Burrow is going to force him the ball, but I wouldn't expect to keep getting TD's at the rate he has been. There's just nothing flashing here so far. Chase is a decent receiver in a decent offense, and he's not even the overwhelming top option, just another good one among many. If you have him I would trade him hot right now while everyone else thinks he's some great WR1. The fun times likely aren't going to last.
--I already mentioned Tyler Boyd and how good he is. If you've been with RC for a while you already know this. Boyd is a better receiver than Chase for sure, and yet he'll get absolutely no credit for his performance here and 100/100 analysts not with FFM will tell you Chase is the better player. Unfortunately, while Boyd should be getting this treatment every week, you can't count on it. Boyd will likely remain a random WR2-3 once Higgins comes back.
--I guess CJ Uzomah (5-95-2/6) is the newest flavor-of-the-week TE that everyone will chase on waivers. Someone will start him and he'll put up 3-26-0 next week and be right back on waivers. There's nothing popping with him. It was just one of those random games guys sometimes get. He's a decent enough player, but he's the 5th option on this team.
--Trevor Lawrence (17-24 for 204, 0 TD/0 INT, 8-36-1) is getting better by the week. That doesn't mean run out and grab him off waivers, but just something to keep in mind. He's still very limited and doesn't work well down the field. His offensive line protection is allowing him time to scan the field and make smart throws though. If the protection ever breaks down he'll be back to turning it over 3-4 times a game.
--Hope you bought low on James Robinson (17-78-2, 1-(-2)-0/2) last week like RC advised. The door has slammed shut now. Robinson is the for sure lead back here over Hyde and the best option this offense has for moving the ball. He looks like a back end RB1 the rest of the schedule.
--Laviska Shenault (6-99-0/7) was the WR winner of the week here. He didn't do anything particularly special. He's still mostly a bubble screen guy but got a few shots down the field that he normally doesn't. Maybe the Jags try to work that in more, but honestly Shenault looked uncomfortable working down the field as a real WR. There's a reason he's the screens and drags guy.
--DJ Chark went down on the 3rd play of the game and his season is likely over with an ankle fracture.
The receiver I recommend trying to grab in the wake of the Chark injury is Marvin Jones (3-24-0/3). He's always been the preferred option for Lawrence, and now he should get all of the medium-deep work, especially now that the offensive line is allowing Lawrence more time to throw. Jones could be a really sneaky WR1.5 option ahead, so if you can get him as a throw-in on another deal I would do so. This is the spot to do it to as he just had a bad game and everyone is bashing the Jags for being 0-4.
--Dan Arnold (2-29-0/2) could be the other winner of the Chark injury. He was already getting involved in the offense here despite just arriving via trade, and he's clearly one of their best pass catchers. If you're dying at TE then Arnold is possibly the best chance at solid points available on most waiver wires right now. It's hard to expect it to pop right away considering he was rotating in with several other TE's, but it was his first week with the team, and the fact that he's already doing this after specifically being traded for suggests to me that they intend to get him more work. It's a speculation grab for sure, but again, if you're dying at TE it's a decent option.
--Tavon Austin (1-8-0/3) will replace Chark in 3 WR sets, but there's no point grabbing him for fantasy. Chark is a way better receiver and wasn't producing in this offense. What makes you think Austin will suddenly become fantasy relevant?
IDP Notes
--Logan Wilson (10 tackles, 1 sack) is having a fantastic year so far. His 4 games this year have produced, 7, 9, 14, and 10 tackles (10 tackles per game). If he keeps this up he's got a chance at leading the league.
--Rookie CB Tyson Campbell (8 tackles, 1 tfl) has 8 tackles each of the last two games as his snap counts have risen. He's allowing a lot of short catches, but that works for fantasy. He's an athlete but definitely still learning to play the position. Doesn't look as bad as I feared he might though. He's tough to beat deep due to his speed.
Snap Counts of Interest
52 = Marvin Jones
42 = Laviska Shenault
41 = Tavon Austin
24 = Chris Manhertz
18 = Dan Arnold
16 = Luke Farrell
11 = Jacob Hollister