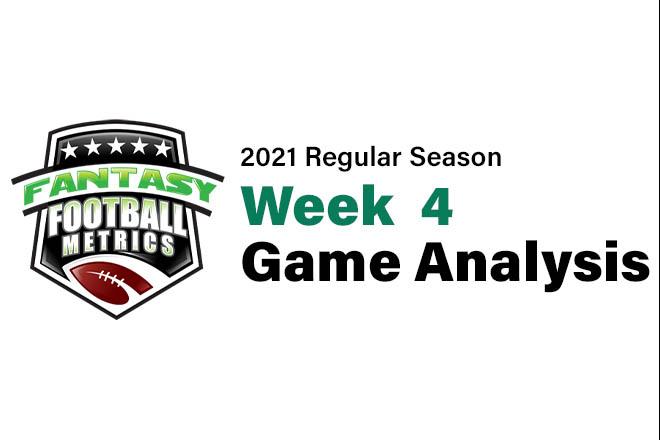 R.C. Fischer
FFM
06 October 2021
2021 Dynasty/Fantasy Game Analysis Week 4: Browns 14, Vikings 7
This was the definition of a hard fought, defensive battle win for the Browns. I was surprised that the Browns held the very good Vikings offense to just a TD…and it was on the opening drive…so a shutout the next 50+ minutes. I moved up this rewatch to take a deeper look at this Browns defense that ruled with 9 sacks over Chicago Week 3, and then this gem Week 4. My full FF-thoughts on this DST will be in the player notes below.
The Browns' offensive is fading while the defense is rising, but overall they're probably good enough to still win the division. A tough schedule ahead, but they will probably get to 9-10 wins. But 7-8 wins wouldn't totally shock me either. The Browns have upside but also growing offensive flaws.
The Vikings defense is no slouch either – back-to-back games holding good teams (CLE and SEA) to under 20 points. The Vikings are (1-3) but really could be (4-0). They are the best (1-3) team in football…and we project them with 10 wins and a wild card…and a possible threat to Green Bay for the NFC North. The Vikings are one of the better teams in the NFL…they went toe-to-toe with CLE, ARI, CIN this season (a combined 10-2 collectively)…and whacked SEA. If Minnesota is as good as the Browns, and people think the Browns are a Super Bowl contender, then…
Fantasy Player Notes…
 -- Let's talk about the Cleveland-DST first…because they deserve it. That was one wicked defense I saw on this tape. Like…'wow'. Like 'Holy S***'.
I've not seen that much pressure on a QB…since…Cleveland Week 3 sacking Justin Fields 9 times and hitting him 15 times. They hit Kirk Cousins 10 times here and only sacked him twice, but he was uncomfortable most every drop back…but Cousins is so damn good he fought through it like a trooper, but the Browns were just too much.
The three defenses that I've seen the past 2-3 weeks and I think they're the most menacing in football (to my eyes): Arizona, L.A. Chargers and these Browns. The Panthers right there too. The Jets are pretty aggressive/emerging but don't have the top-to-bottom talent of these other big names.
The Browns front group was pushing the Vikings O-Line back every time…and they batted down passes, chased Cousins from the pocket a lot, and hit him often. They only sacked him twice but lost 2-3 sacks to Cousins just smartly getting rid of the ball as he was in the grasp.
I saw the Browns slumber through their Week 2 games with the Texans and thought the Browns were just mediocre on defense, so when they smoked the Bears with 9 sacks Week 3…I thought it was a Bears problem, and it was -- but the Browns defense was exasperating the problem exponentially. Here, against a top 10 NFL offense/QB…they made the Vikings' lives miserable.
This is a DST built for Fantasy – high pressure = sacks, strip sacks, and hurried throws/picks.
The Browns are #7 in PPG allowed in the NFL (and they faced MIN and KC).
The Browns are #2 in sacks on the season. Top 5 in pressures per pass attempt.
They have allowed net passing yards of 1 (to CHI) and 190 (to MIN) the past two weeks.
I would say the Browns have a great front four…and a good/OK back seven. The DB group is potentially very good, but still coming together as a unit with offseason changes and high draft pick players returning from missed-the-season injury last year.
The Browns face the Chargers and Cardinals the next two weeks…arguably two of the best 3 teams in football. The schedule has been brutal. Some will FF-drop them for fear of the LAC game…then more will drop them in Week 6 v. ARI. Be on the lookout for a pickup in and around that, potentially…
After Week 7, the Browns face: Teddy-Ben-Burrow-Mac-Goff-Lamar before a Week 13 bye. Six quality matchups, many with some of the weakest O-Lines in football.
 -- Also, consider… The Vikings defense is no slouch either. It's coming into its own as well. They were toe-to-toe, almost, with the Browns defense. The Vikings-DST is #4 in sacks in the NFL right now. They are the 3rd-best defense on 3rd-downs in the NFL.
This is an on-the-come defense…just not quite the pass rush Cleveland has, and a worse back 7 because their secondary is still dicey…but improving, quickly.
Any time this MIN defense is at home, with that crowd noise, it's an extra boost. Week 5 hosting DET…it works for FF. Week 6 at CAR, if CMC is out, could be nice. Then the schedule gets nasty for a while starting with their Week 7 bye.
Just take note – if your QB/WR is facing MIN…it's not a certain boost. This is not the 2020 Vikings on defense.
 -- Dalvin Cook (9-34-0, 2-10-0/6) got banged up again in-game, left for a while and then returned. He will likely be questionable and may sit out or sit a lot if they manhandle DET this week. It would be a good time, if he's questionable all week, to explore cheap trades for him from the desperate – because he looks fantastic otherwise.
Because they might sit him this week because of an 'easy' win vs. DET…Alexander Mattison (10-20-0) is worth holding onto as a shock/surprise solo starter v. DET this week.
 -- I cannot tell you how awful Odell Beckham (2-27-0/7) is working with Baker Mayfield (15-33 for 155 yards, 0 TDs/0 INT)…it drags Baker down. He's always trying to force it to OBJ and it's almost always covered or OBJ goes the wrong way on the timing throw.
Speaking of Baker, his numbers are going in the toilet since OBJ got back…and, shockingly, the Browns are the 5th-most sacked team in the league right now – this supposedly great O-Line isn't great at pass blocking (but is at run blocking).
 -- Three notes on MIN receivers…
1) Justin Jefferson (6-84-1/7) abused a very good Denzel Ward in this game. Jefferson is like fine art watching him work. I've learned to appreciate it as I've gotten older (from last year).
2) K.J. Osborn (3-26-0/7) is really good…but there's not enough passes to go around for him. But note, he's a really good, future starting WR. He's going to matter for FF someday. He's like a junior Justin Jefferson.
3) Tyler Conklin (4-18-0/6) had a down game off his nice Week 3, so now everyone will turn on Conklin. Just note that Cleveland is one of the five best defenses against the TE this season, and that's including facing Travis Kelce Week 1. Don't write off Conklin too quickly. Not saying he's a star TE1 ahead, but he's not as dead as you might think.
Snap Counts of Interest:
33 = D Cook
23 = Mattison
66 = Thielen
59 = Jefferson
42 = Osborn
56 = Hooper
52 = Njoku
29 = Bryant
41 = Hunt
37 = Chubb