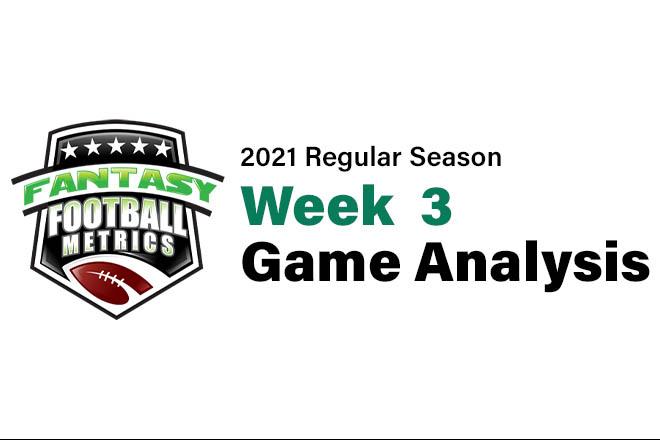 Ross Jacobs
FFM
01 October 2021
2021 Dynasty/Fantasy Game Analysis Week 3: Cowboys 41, Eagles 21 
This was an old-fashioned beatdown by the Cowboys. It really wasn't even as close as the final score suggests. One of the Eagles scores was a sack strip for a TD by the defense. After that Dallas took complete control and were up by 4 scores near the end before Philly scored one last garbage time TD.
So it's very obvious that the Eagles got dramatically overrated after beating down the hapless Falcons, but the real question is: how good are the Cowboys?
They lost a close one to the Bucs, won a close hard fought game against a suddenly strong looking young Chargers team, and now they've demolished the Eagles. Personally, I think Dallas is the easy favorite to win the NFC East now, as most people agree, but I don't think they are one of the best teams in the NFC (as many people think)...yet...
There's certainly potential here. They have a great offense that is defying expectations by being very well coached. One of the concerns coming into the year was that McCarthy was a stiff, boring old coach with no creativity left. Well, he's still that but offensive coordinator Kellen Moore is not and he's putting together some fantastic game plans on offense. McCarthy will get all the credit, but we know where this is coming from.
On defense they have started to flash some real chops after struggling with the Bucs week 1. They gave up a lot of yards to a potent Chargers attack but mostly held them out of the end zone, and of course they smacked the Eagles around here. I think a lot of people are overrating this group right now though because they aren't factoring in how bad/injured the Philly offensive line is. The game plan by Nick Sirianni also wasn't great as he continued to try and attack Dallas the same way he did Atlanta (probably because it worked so well week 1). Unfortunately for him, Dallas has the horses on defense to combat that short, quick passing game. You have to attack the Dallas secondary deep and the Eagles didn't even attempt it despite Dallas jumping all the short routes early. The Cowboys will have much stronger opponents coming soon and I doubt the defense is going to look quite so good then.
**RC Note: I would note that the DAL defense is OK/good/mediocre. Not bad. Not great. But decent, improving. But the next 3 weeks is an OK defense with a nice offense to control possession facing CAR without CMC, NYG, and NE...three nice DST matchups. **
If my assessment is correct then they are probably a 10-11 game winner, should take the East and a #3 or #4 seed. They have a shot if everything goes right, but I still think they are just a couple players short of being a real power and Superbowl threat.
Fantasy Notes
--Let's start with Jalen Hurts (25-39 for 326, 2 TD/2 INT, 9-35-0). A lot of you are probably panicking right now because he got a slow start here, looked shaky at times, threw a couple of picks...stop it. Hurts is averaging 23.7 ppg or thereabouts, depending on your scoring system, and is the #3 or #4 QB right now. In his four starts in 2020 he averaged 23 ppg. There is nothing to worry about!
It's easy to forget, but fantasy is not the same thing as real football. Players can be great for one and not the other. Hurts is a good real life QB, but that's not what ultimately matters for us. What matters is he's scoring points and he's doing it under crap circumstances. So it doesn't matter one bit if he gets all his points in garbage time as his team is getting blown out. What matters is he's scoring. That's it.
As for his real life skills, yeah, he's just fine. He was dealing with having half his offensive line out, a bad game plan, a billion penalties putting him in long down situations, and receivers dropping passes all over the place. He wasn't perfect but who is? Even Patrick Mahomes throws stupid interceptions at times. It happens. There's nothing wrong with Hurts. He played his ass off here and looks just fine.
--It's hard to use any Philly pass catcher with any consistency for fantasy, but if I was going to it would be DeVonta Smith (3-28-0/6). He's still getting his legs under him (and he's battling a lot of the same issues Hurts is), but I expect him to improve as the season goes on. He played a good emerging corner in Trevon Diggs, but if Sirianni had just called for a double move or two Smith could have smoked Diggs more than once. Unfortunately all he got to run was short slants literally all night and, unsurprisingly, Diggs figured this out and started jumping every route.
--Jalen Reagor (5-53-0/8) has been way more involved than I thought and looks pretty good. I haven't seen any flashes of the speed he's supposed to possess, but again, this coaching staff hasn't even tried to use him on any deep or medium passes. It's all short stuff so far. He's unusable for fantasy right now but could suddenly find some WR3 use if this offense ever opens up.
--The best looking WR for Philly so far has been Quez Watkins (2-46-0/2). Unlike Reagor, Watkins has flashed his speed at times on bubble screens. I'd like to see them get him the ball more. He definitely belongs as the 3rd guy, but they ought to get him a few more looks than he's been getting.
--Dallas Goedert (2-66-0/4) is their best TE but he's still splitting too much with Zach Ertz (4-53-1/7). They really should have come off their asking price and just traded Ertz for what they could get. Goedert will have his moments but there's no predicting what games that will be. If Ertz gets hurt though it could be game on.
--Miles Sanders (2-27-0, 3-28-0/4) had an awful fantasy game, but it's hard to score points when you only get 2 carries. That was a function of the Eagles getting behind so quickly. He should be back to his usual workload soon. Not sure that's worth much, but then you shouldn't have him rostered anyways.
--Everyone was so excited after Dak Prescott (21-26 for 238 yards, 3 TD/0 INT, 9-6-0) threw for over 400 yards against Tampa, and the logic went like this: well, if Dak threw for 400 yards every game before he got hurt in 2020, and he threw for 400 yards here, then he must be going to throw for 400 yards every game! Fantasy for most people is only what happened the past 2-3 games and sometimes less.
Of course, now he's gone two straight games with under 30 attempts (you didn't really think he was going to throw 58 times every game did you?) and less than 250 yards and people are suddenly panicking. But Ross, what if he does this EVERY game? Take a deep breath. Everything is going to be ok. Dallas is adapting their game plan to attack the weakness of whatever the defense is doing. It's going to lead to a few weeks where Dak doesn't score a billion points. It's also going to lead to a few games where he goes crazy passing and wins you your matchup by himself.
--As Dak goes, so goes Amari Cooper (3-26-0/4) and CeeDee Lamb (3-66-0/3). Again, don't worry about them. It's been a slow couple of weeks for Amari, but he's going to get his. He's averaging 8.7 targets per game right now, a full season pace of 147 targets. He's fine. I also didn't see any lingering effects from his rib injury. He's moving around well and looks fully healthy. In fact, he's a great buy low candidate right now if you can find a nervous owner. He's a WR1-1.5 all day long.
Lamb has only had the one bad game so far, but everything I said about Amari goes for him as well.
--Ezekiel Elliott (17-95-2, 3-21-0/3) has a lot of nervous owners as well, and this one I understand a little better. Tony Pollard (11-60-0, 1-5-0/1) has been a lot more involved than past years and looks quite good. The thinking is that they are in a split and Zeke is no longer a workhorse, therefore you need to sell off as fast as you can.
Pump the breaks on that a little. Let's get some context on what's going on here.
Here's the snap counts for each player through 3 weeks:
Week 1: Zeke 70, Pollard 20
Week 2: Zeke 44, Pollard 21
Week 3: Zeke 54, Pollard 29
And their number of touches:
Week 1: Zeke 11 carries, 2 catches, Pollard 3 carries, 4 catches
Week 2: Zeke 16 carries, 2 catches, Pollard 13 carries, 3 catches
Week 3: Zeke 17 carries, 3 catches, Pollard 11 carries, 1 catch
Elliott is still on the field 65-70 percent of the time, and in the week where the Cowboys barely ran the ball it was Zeke taking the lion's share of the carries. These past two weeks Pollard has gotten over 10 carries each time, but Zeke still got 16+ carries and he's been much more efficient with them than he has in years past. He averaged 8.4 ypc against the Chargers and 5.5 ypc against the Eagles. He also has 3 TD's to Pollard's 1.
Zeke is an RB1 all day. Now he's probably not going to lead the league in scoring or be the overall #1, but he's still getting very strong production and is a solid play every single week. There's no threat to his numbers from Pollard. They can co-exist.
--As for Pollard he's suddenly become a viable flex play in certain weeks. I don't think you can plug him in every week just yet, but I think the way to play it is to figure out which defenses Dallas is likely to try their run-heavy approach on and play him against those teams. The pattern so far has been the Cowboys run against two high safety defenses and pass against single high safety defenses, but it's possible that changes as teams begin to adjust to what Dallas is doing.
--Dalton Schultz (6-80-2/7) had himself a huge game out of nowhere, but I don't think you can count on this going forward. He and Blake Jarwin (2-14-0/2) are still splitting snaps. Maybe it was something Kellen Moore was targeting in the Philly defense or maybe just what was available. Let's see if Schultz gets another heavier workload to separate from Jarwin in the offense.
IDP Notes
--RC wasn't kidding about Javon Hargrave (6 tackles, 2 sacks, 1 tfl)! That guy is playing out of his mind right now. He is a huge man just pushing people around, but also has surprising quickness to close the gap to the QB. He was eating Connor Williams alive all game. As a DT he's averaging 6 tackles per game right now to go along with 4 sacks! Those are DPOY type numbers.
--Safety Anthony Harris (14 tackles) has 24 tackles the last two games and LB Alex Singleton (10 tackles) has 29 on the year. Singleton is the most consistent guy for Philly at linebacker.
--Cowboys rookie DT Osa Odighizuwa (4 tackles, 1.5 sacks, 1 tfl) had a nice game himself but his was more the product of an injured Eagles line than anything else. He's playing well, but I haven't seen anything super amazing yet.
Snap Counts of Interest
54 = Ezekiel Elliott
29 = Tony Pollard
53 = Dalton Schultz
43 = Blake Jarwin
57 = DeVonta Smith
50 = Jalen Reagor
38 = Quez Watkins
34 = Dallas Goedert
30 = Zach Ertz
35 = Miles Sanders
18 = Kenneth Gainwell