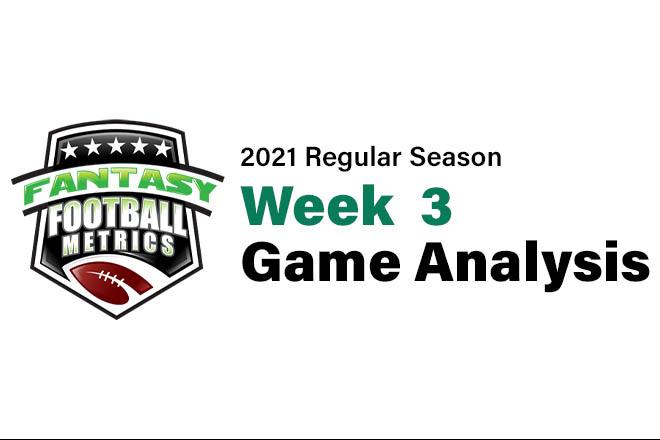 R.C. Fischer
FFM
28 September 2021
2021 Dynasty/Fantasy Game Analysis Week 3: Bengals 24, Steelers 10
The Steelers were never really in this game. I mean…it was semi-close, not a blowout but as an observer, and to the fans in the stadium, and to the two teams on the field – you could see it in their faces, the Bengals were never worried the Steelers were the better team or making a comeback here.
The predominant look on the faces of the fans in attendance, and to the players on either side was more likely a shocked realization a la: https://youtu.be/RP-hMSQEAE4, a realization that the Steelers are done…the Bengals are clearly the better of the two teams/headed in a better direction and the Steelers are dying right before our very eyes.
Now, it's possible the Steelers get back their injured key defenders and are a tough out, low scoring fist-fight team…but there should be no way the Steelers have a winning record or make the playoffs, etc.
It's possible, if the Steelers lose their next three games, which is possible (at GB, DEN, SEA) for them to fall to (1-5) – which causes a situation where Ben Roethlisberger is dealt to a team in desperate need and the Steelers just tank this season out with Mason Rudolph/Dwayne Haskins – and then the GM should then be fired in-season as well. Mike Tomlin should be dumped too, but he won't be. He has the media protecting him…but his real reason for existing has been Big Ben, and as Big Ben has gone…so has Tomlin's coaching prowess.
What the franchise has done to their own offensive line, what they allowed to happen, what they didn't address the past few years…while they traded high picks away for a marginal safety (Minkah) and wasted their 2021 1st-round pick on a stiff running back who is more a day two, day three talent – it's self-inflicted wounds, it's dereliction of duty…people just awful at their jobs. Ben Roethlisberger cannot cover it up any longer. Those days are gone. We project a (6-11) season for them, as-is, right now.
The Bengals have some similar issues – they have as bad an O-Line as there is in football and wasted a high draft pick on a marginal WR (Chase) – but Joe Burrow is better than Big Ben and the Bengals now have a defense. The Bengals are going to fail ahead too – terrible O-Line = doom without a Mahomes/Herbert/Kyler/Rodgers (or prior years Big Ben) type QB to bail you out. And Burrow is not playing at their level in 2021. The Bengals will be lucky to get to 8 wins this season.
Fantasy Player Notes…
 -- Let's talk about Ben Roethlisberger (38-58 for 318 yards, 1 TD/2 INTs)…
I have watched a lot of Big Ben games over the years. I've seen him be a miracle worker playing through a leg injury he couldn't hardly plant/stand on…but somehow he gutted it out and won games with his arm, even in a reduced state with his body. But this game right here – this was the worst I have ever seen him look.
I could forgive him for looking sloppy/troubled Week 1 vs. Buffalo (the best defense in football, arguably). I was slamming him for Week 2's flop against Las Vegas. But between that Week 2 and this Week 3 mess…we have to say the old Big Ben is dead. May he rest in peace.
Part of the problem is Ben's skills are eroding, but I say most of it is to be blamed on the offensive line. Ben has no time. Where the old Big Ben would have moved around, hung in to the last second and made a miracle throw…that Ben exists in his mind, but doesn't exist in reality/on the field.
Ben looks like he's coming to that realization – he doesn't have the 'it' anymore. He's more worried about getting hit hard than he is making miracle plays. He gets rid of the ball fast and to the first thing he sees/is comfortable with because he's trying to get by without the world knowing he's lost his fastball. Matt Ryan is going through the same thing. They can still make plays and have moments with the proper time, but under any duress…it's over. Basic plays/throws look challenging.
I re-watched this game…and saw a legend die right before my eyes. Sad to see.
When QBs start to die off…they tend to lean on one of two throws: (a) the easiest, quickest one and/or (b) their favorite/trusted receiver. No more reading the field. No more spreading it around like a surgeon – it's pre-pick the throw and hope it connects, or if you sense the danger…just dump it off to the safety valve, get rid of the hot potato.
I watched Ben die here. I watch Matt Ryan dying every week too. It all makes me marvel at what Tom Brady is accomplishing at 44.
Ben's quick passing, scared/pressured ways affects all the related offensive weapons. Let's go through them…
 -- Chase Claypool (9-96-0/15) played the role of Diontae Johnson this game, because Diontae wasn't there. Consider what that means…
Ben is not changing off that usage/throw – 10+ targets all to the main BFF receiver, while the other WRs randomly starve. It's Diontae who will be getting the heavy count of short quick throws when he is back. Meaning Diontae is a PPR WR1 as long as Ben is there and Diontae is healthy.
It means Claypool is a probably WR1 with Diontae out (JuJu got hurt halfway in so we don't fully know what would have happened between JuJu and Claypool), but when Diontae returns…Claypool for sure goes back to his deep ball guy on the wing – where Ben throws one up for grabs to him every so often, but it rarely connects. There is no more: Ben makes a 5+ step drop, sets up, reads progressions, Claypool runs a 7-10 yard cut to the sideline timing route where Ben whistles one to him in-stride – Ben has no time for that. The pocket is collapsing three steps into a five-step drop, it's why Ben is getting dinged for getting rid of the ball so fast. Because it's true. It's the only way they can get a pass off without a sack happening. Good for Diontae…and Claypool is semi-screwed (for FF) unless he makes a miracle catch or two.
For his part, Claypool was great in the Diontae role because once he has the ball…he's a tall, 235-240+ pound man making moves. Hard to tackle. I wonder if Mike Tomlin sees it and thinks he should switch Claypool and Diontae's roles, but Tomlin's an offensive moron carried by Big Ben for the past decade…and Ben is comfortable with Diontae, then Diontae it shall be.
When Ben is gone…injury, trade, retire…Diontae Johnson is the must sell of the century.
Claypool's future? As long as Ben is there, and CC is in the 'go deep mode' then he's going to be Mike Williams-esque circa 2018-2020 East version – big guy, jump ball guy, no real consistency to his FF-game. Some hot FF spurts, then some lacking. We need for Claypool to keep that Diontae role, or for the Steelers to get a real O-Line for Ben (or whomever) in 2022…and I don't know if either of those things will happen. I'm starting to worry that Claypool's talent will go underutilized as we all complain about it for the next two years. The longer Diontae is out, the more Claypool might show he's the better fit for the role. I love Claypool's talent, but this Steelers thing is dying faster than I thought.
One of Diontae or Claypool is gonna thrive in 2021…the other is going to be random. Diontae has the inside track, but his constant injuries and drops might get him bounced. The moment we see Claypool in that heavy-target role WITH Diontae back (and DJ moved to the outside)…you gotta sell Diontae ASAP.
Diontae in the current Dionte role in 2021 – he is a PPR WR1. If moved to the Claypool role on the outside makes Diontae as WR3. We have a small window to operate with Diontae right now…and Claypool.
With all that said, minus Diontae…JuJu Smith-Schuster (3-35-0/4), A.K.A the worst free agent allocation of dollars in 2021, was nothing special…because he is nothing special. And Ben is using one guy heavy and everyone else at random. JuJu is mostly in the random category.
 -- Pat Freiermuth (3-22-1/5) has a role developing with Ben…trusted red zone/end zone option. Freiermuth scored a TD here, but Ben tried to get him with two other TD tosses and an inside the red zone shot. I would not be shocked if Freiermuth ended up to be Ben's second target choice from here on in…the second best WR/TE target/output numbers…and he has like a Robert Tonyan 2020 season: 2-4 catches a game, 25-40 yards per game, but 10+ TDs.
Eric Ebron (0-0-0/3) is closer to getting cut than he is cutting into Freiermuth's red zone action.
 -- Diontae (when healthy) is the current real throw for Big Ben. Claypool is a couple times a game heave on the outside guy. Freiermuth is going to be the TD guy. Najee Harris (14-40-0, 14-102-0/19) is going to be gamma radiated James White/Gio Bernard…the easy dump pass for Ben to stay alive. I mean, 19 pass targets for a slow running back…it's silly. But Najee has good hands, is tall, and seems like a mismatch outside (but isn't, really).
It's a terrible role for Najee because he's such a slow, non-athlete for that role. He is the worst stop-start starting RB in the NFL potentially. When Najee pauses or stops or stops to try and cut from traffic…he's dead. It's why his yards per carry are so low and his yards per catch is pretty weak too.
Najee has one superpower…but the Steelers are not built to utilize it. Najee will be an NFL star running straight ahead…with room/space to run. Najee with a head of steam is going to be wicked, destroying tacklers in his way. Najee trying to be agile is wicked-bad, in Bostonian terms.
At Alabama, they could blow holes wide open for Najee to trounce college students all day long. In the NFL, with these Steelers…it's a mismatch against Najee. Get used to a lot of 15 carries for 50 yards games, but with 5-10 catches per game. Great for PPR…not so hot for non-PPR because he's not scoring TDs because the Steelers don't grind to the goal line area often, easily…and then they can't block Najee into the end zone otherwise.
When will Najee be a superstar?
I can tell you when…once you tell me how long it will take for the Steelers to get a real O-Line? They need four new offensive linemen, minimum. Who's coming to play for Pittsburgh as a free agent? Everyone is leaving, not staying. It might be 3-4 years from now before Pittsburgh has a real QB and real O-Line.
 -- Every week, Joe Burrow (14-18 for 172 yards, 3 TDs/1 INT, 5-7-0) gets a little more like the old Burrow…but still not fully there. I'd say he's like 60-70% of what I'm used to. Workable, but not elite…not a 'put the team on my back' kind of warrior yet/again like he was. We got little flashes here, more than last week and more than the week before that…but we're not all the way back yet.
Dak Prescott went through a horrible injury too, but he looks WAY better than Burrow in their recoveries. But also, the Cincy O-Line is terrible…but credit to them (and Pitt minus all their best pass rushers), Burrow had 0 sacks…and 0 QB hits on him. Wow.
 -- Ja'Marr Chase (4-65-2/5) isn't playing bad football, but I'm not seeing any 'wow' this guy's a dominant WR. He's a fast guy with 4 TDs in 3 games…one nice bomb he almost dropped, but reached out and brought it in. Then his other three TDs were garden variety 'on the field' got the TD plays…two of those were underthrown bombs he adjusted to and the DBs didn't.
It's working, but I don't see anything special. The targeting is pretty low. But ride it while you can…I'd trade it hot.
 -- Rookie Chris Evans (2-26-0/2) is starting to build up into a passing game/2-minute drill type option/back. He's working his way towards being a possible Mixon handcuff, but it would be Perine-Evans right now.
If you were looking for flyer RBs to sit on hoping an injury to the starter might spring them…Evans is a name.
 -- I've been lauding the Bengals defense since the preseason…and here they are – the #7 PPG allowed defense in the NFL and #9 in yards allowed. They've not faced the toughest schedule, but it isn't a total gimme. My eyes tell the tale…they are good. Not great, but good. Wild card playoff-worthy. It wont be the defense that keeps the Bengals out of the playoffs…it will be Burrow being too tentative with his knee/the O-Line getting him obliterated.
Jacksonville Week 4 on TNF should be solid for the Cincy DST, then trouble with GB Week 5…but then DET-BAL-NYJ isn't a bad stretch but all on the road.
Logan Wilson (14 tackles, 2 PDs) is really stepping up at linebacker for them – 10.0 tackles per game so far.
 -- I imagine the Steelers DST will be dropped in some places this week for two reasons…
1) They've been beaten the last 2 weeks, giving up 26 and 24 points…and not looking good.
2) They are at Green Bay Week 4
They would be an opportunity to vulture in on them – because they looked excellent Week 1, then started losing all their key/top defenders the last two weeks…led by T.J. Watt.
The schedule Week 5 vs. DEN isn't bad…IF Watt and the others are back. Weeks 8-9-10 with CLE-CHI-DET could be a great spot with everyone back.
But if Watt doesn't come back, I have no interest.
Snap Counts of Interest:
76 = Claypool
66 = JWash
47 = McCloud
33 = JuJu
47 = Ebron
30 = Freiermuth
39 = Chase
37 = Boyd
27 = Tate