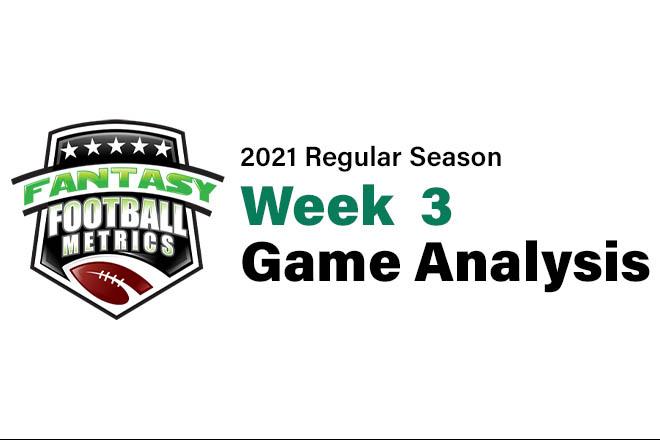 R.C. Fischer
FFM
30 September 2021
2021 Dynasty/Fantasy Game Analysis Week 3:  Browns 26, Bears 6
Via the highlights and analysts who only watch highlights, the game narrative was: the Browns dominated the sad Bears…and the Browns are probably going to the Super Bowl, and Matt Nagy is a moron…has now finally been confirmed for them.
First off, Matt Nagy was confirmed a moron years ago by us…when the Bears were winning. The problems with Nagy were beyond obvious…but he's NOW the fall guy for 'breaking' the media's favorite QB from this draft (Fields), so now Nagy has got to go.
If Nagy has ruined Fields…where are the people wondering if he also ruined Mitchell Trubisky? Imagine a coach so bad, he's ruined two 1st-round pick QBs – but it's true.
The media can't have it both ways…they can't be professing Nagy-love and genius for 2-3 years, and now think he's the stupidest coach in football. No harm in being wrong and changing a position – but this is them constantly wrong, and constantly not even acknowledging it. And they will not apply their stance change to the Trubisky situation.
Actually, the media can have it both ways…the football media like the political/world news media are a joke, a fraud…and their face-painting, home-team-worshipping audience laps it up without question or memory. The football media is never scrutinized…instead they are adored as holier than thou because they have football jobs, and you don't. And if any of them try to get out of line, question anything taboo…then they are banished from the club. You will get Steve Mariucci, Michael Irvin, and Golic and Collingsworth royal lineage to tell you about football…and you will like it. Bill Simmons…you are banished. Colin Cowherd got more in line when he saw the writing on the wall/where his bread is buttered.
I would say the football community is like a club, but it's really like a cult…and ex-players are your high priests/commentators to tell you what to think. The cult members/fans happily listen to their overlords and marvel at their football words, and wish they were them…while they wear jerseys of them. Meanwhile, the billionaire owners at the top of the cult laugh on their third yacht as people give over hard earned money just to have the rights to buy season tickets so that they can sit in subzero temps in Green Bay to watch a game and pay $47 for a beer and a hot dog while doing it…and their lives couldn't be anymore complete..
The media treats their football audience like idiots, because most of their audience is…sad, but true. It's a religion, and their devotees will accept anything pushed down to them.
I love football…to bet on it and play Fantasy Football off of it. I don't worship any of their teams (unless I bet on them that week) or players, besides Nick Foles..and that one year of David Johnson. 
Where was I?
Oh, it's hilarious that this game was the full trigger turn on Matt Nagy…while simultaneously confirming the Browns are still their 'smart' Super Bowl pick.
Did you know this game was 3-3 tied with 0:30 to go in the 1st-half? Did you know it was only 13-6 going into the 4th-quarter? The Bears played about as bad as a team could…because they have no O-Line (or talent, or coaching), but the Browns couldn't really capitalize on it for three quarters and were on thin ice for Chicago getting back in it…until the ice broke, and the Browns pulled away in the 4th-quarter.
For most of this game, I watched it thinking – these are two of the worst, most dull teams in football.
The Browns are now (2-1) and may be the AFC North favorites, but if they lose to Minnesota this week (and I think they will), then get ready for a Browns mini-collapse – the Browns are set to lose their next three games (MIN-LAC-ARI) and then hosting Denver Week 7 sitting (2-4) with the season possibly on the line. I'm not so sure the Browns will win the AFC North…but all the other teams there are weak as well. (9-8) might get the job done…by any of them.
If the Bears lose this week to Detroit (and I think they might), then we might see a one-two punch of firings the next couple of weeks…either GM then HC, or HC then GM. The Bears might be the worst run team in all of football. Terrible recent drafts, ridiculous free agent signings…and an ever-worsening product on the field. The Bears are (4-10) in their last 14 games. And this was a (expanded) playoff team last year!
All the while, the media protected their Nagy…by blaming Trubisky. That mistake in judgment is coming home to roost any week now. It will bring on yet another 3–5-year rebuilding plan necessary. Enjoy that, Bears fans.  
Fantasy Player Notes…
 -- So, was this Justin Fields's (6-20 for 68 yards, 0 TDs/0 INTs, 3-12-0) fault? How did he do?
Under the circumstances, he did OK. It would be easy to blame him but like with Zach Wilson if you're under assault every drop back to pass…and you're constantly running for your life, there's only so much you can do.
When under assault, Big Ben just dumped every pass to Najee Harris last week…it was a signal he had given up on having any time in the pocket. Zach Wilson tries to make plays under assault…and turns it over a bunch. Fields took another route -- he was likely so not-trying to throw interceptions to protect his rep/stats that he just tried to escape or just ate the sacks.
Fields has no time, so the WRs can't get open in Nagy's ultra-ridiculous offense. Andy Dalton is more experienced, so Nagy will go to him again…but it won't work. Nick Foles is better than all of them and is put as 3rd-string, further confirming how stupid Nagy is.
Now, the media is fully on the Nagy is an idiot bandwagon after 9 sacks allowed to their golden boy (Fields), so the clock is ticking loudly on Nagy's head coaching career.
 -- You have to now FF-avoid everything in Chicago, until a new coach is named in -season…but even then…
This team is collapsing as the O-Line craters.
David Montgomery (10-34-0, 2-21-0/4) looks great…but has nowhere to run.
Allen Robinson (2-27-0/6) is a top NFL WR, but he's doomed here…his game needs a QB throwing medium and deep, but there's no time for that with this O-Line. You only can hope ARob is traded in-season to generate fresh FF-value ahead.
The sky is falling in Chicago. Get away from any of their FF players while you still can. Montgomery is seen as an RB2, priced as an RB2, but in this offense he has the risk of more RB3 weeks than RB1 weeks…unless this O-Line magically transforms ahead. Montgomery might be an RB2 on volume, but if it's a bunch of 22-80-0 lines…then how valuable is it?
 -- I had to laugh watching this game… The one thing that has brought the Browns down time-and-time again is Odell Beckham (5-77-0/9) on the field with Baker. Why? Because Baker wants to force it to the chief complainer/his friend and it is usually not open or effective, nor does OBJ care…but it doesn't stop Baker from pushing it.
One of the reasons this game was just 13-6 going into the 4th-quarter was because of Baker looking too much at OBJ (OBJ 9 targets, the other 4 WRs had 8 targets combined)…but then they started getting back to the RB heavy game late-3rd/in the 4th-quarter, and Kareem Hunt (10-81-1, 6-74-0/7) put this offense on his back and got the offense flowing again.
 -- What was interesting about the Browns offense in this game…they tried to get Demetric Felton (2-13-0/3) going early. But, then like most awful O-Cs…they just abandoned it after a quick push.
It's sad, because Felton ran a wheel route and was wide open down the sidelines for a 40+ yard TD…but Baker threw the pass way off and blew it. Soon after, Felton got a nice swing pass out of the backfield and went for 10+ yards, but it got called back. We almost had a Felton 4-60-1/5 game…just from the 1st-half, and if it hit like that then they would've probably dealt him more work because it was 'working'. It 'worked' just Baker blew it…and then they just quit with him in the 2nd-half.
In the end, it was only Felton coming in for a few 3rd-downs (just 11 snaps played) early with specific plays and then barely seen in the 2nd-half, as Hunt-Chubb sucked the oxygen from this backfield for Felton to die of lack of oxygen.
 -- The Browns defense held the Bears to 6 points and had 9 sacks…amazing DST scoring. The Chiefs had no issue with this Browns defense Week 1, as expected. But Houston rolled right through it Week 2…until Tyrod got hurt. This Week 3 event is probably not a turn…just a lucky schedule break to get the Bears dying here.
Cousins-Herbert-Kyler the next 3 weeks? No way.
Snap Counts of Interest:
53 = Peoples-Jones
52 = OBJ
40 = Higgins
28 = Schwartz
11 = Felton
40 = Chubb
33 = Hunt
50 = Njoku
49 = Hooper
33 = Bryant
44 = Mooney
40 = ARob
34 = Byrd
43 = Kmet
07 = Graham