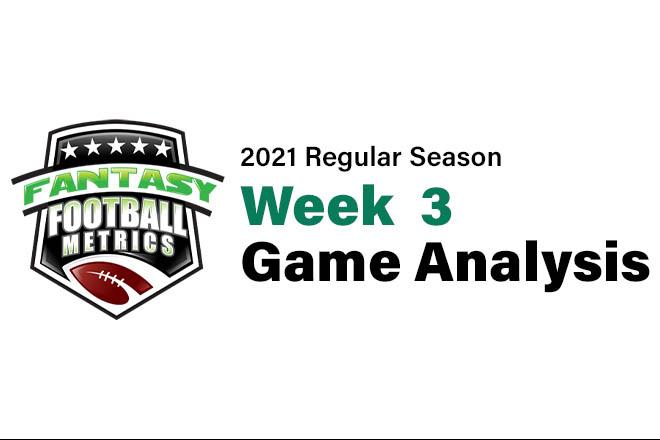 R.C. Fischer
FFM
01 October 2021
2021 Dynasty/Fantasy Game Analysis Week 3: Titans 26, Colts 16
Well, I guess I'd sum up this game by saying – the Titans were OK/fine, but the Colts are so corrupted on the O-Line and have such a mediocre defense…that Tennessee got the early lead, and the Colts were helpless to ever catch-up/seize the game at any point.
The Titans lost A.J. Brown and Julio Jones for most/all the 2nd-half…and the Colts couldn't really stop the obvious run game nor did they take advantage much of the CFL/XFL WRs the Titans were throwing at them.
The Titans are now (2-1) and likely to win the AFC South, not because they're great…but because they are OK and play in the worst division in football. The Titans should get to 10 wins…and no other AFC South team will likely be able to get there.
The Colts are (0-3) and their season is almost over. It's somewhat unfair because they've lost so much of their O-Line so early that they've fallen into a hole they probably can't get out of. Indy needs to win this week (not assured) and Tennessee needs to lose to the Jets (not likely, but not crazy) to get back in it.
Because the Colts schedule is pretty soft overall, they could make a run when their O-Line guys get healthy…but they may be too far out to pull it off.
Fantasy Player Notes…
 -- There's one big revelation from this game…a continuation from Weeks 1-2, but it's becoming painfully obvious…Michael Pittman (6-68-0/12) is the OBVIOUS #1 look for Carson Wentz.
And just being the top look for any QB is not always FF money (just ask DeVonta Smith or Marquez Callaway among others), but in this case…Pittman looks like a million bucks every game this season. He looks like and is working like a tough, dominant #1 WR, and we thought he had that potential coming out of USC…and now he is showing it.
I believe Pittman has PPR WR1 possibilities for the rest of the season. And the exciting thing about that is…you could trade for Pittman as a back-end WR2-2.5 this week probably…or wait to get past this week if/when Xavien Howard shuts him down, and then chase him even cheaper.
I'm very impressed by what I see here with Pittman the past 2-3 weeks…and I'm geeked about trying to get him in Fantasy, but I will try to be patient because it could be cheaper/easier next week. I don't want this to be another 'this guy is good' name that doesn't create any energy.
There's been three players I've gotten a 'revelation' on/excited about going into Week 4, ones that I've been pushing for as 'now is the time to act'…because it's better than 'they're good'…and costly (to varying degrees) but still undervalued. Guys who can change FF fates…ones that really standout for me as I've watched Week 3 games back and looked at the data and seen the deals happening…
Mike Williams (still get-able, some owners still don't fully believe what's happening here)
James Robinson (deeper talk on the Tuesday Video Q&A, available to listen/watch on demand 2 minutes after show finishes for 30 days – his O-Line is the key)
Now add…
Michael Pittman (who would come the cheapest of all of them by far…like/example Deebo for Pittman + ____ item in 2-for-1, or mixed/hidden into a 2-for-2 deal – and this is more PPR desired where the other two are all formats, but Pittman has value in all formats as well but I think this is going to be more of a PPR event/undervalue).
 -- Speaking of the Indy O-Line…
Jonathan Taylor (10-64-0, 1-8-0/1) looks great. Nothing wrong with him, but defenses focus on him when he's in…and there's usually nowhere to run. Taylor really had some nifty plays here, but Indy gets down and running with JT has been a slog with O-Line issues…and then Nyheim Hines (6-25-1, 5-54-0/6) showing up tends to soften the 8-man boxes (as they don't worry about him as much) and Hines moves the ball better, oddly, than JT does it seems – it's the defenses attention causing the optical illusion, but you can't blame the Colts for going with it).
Taylor looks fine, but he's up against a roadblock of a disrespected QB and all the O-Line injuries right now with the defenses focusing on him. You have to just suffer through, and hope Taylor starts to get FF output. Marlon Mack being traded/cut soon helps a bit.
JT is not a buy low or sell high, he's a hold and pray.
 -- If Julio and A.J. are out Week 4, who the H is Ryan Tannehill going to throw to?
Nick Westbrook-Ikhine (4-53-1/4) is the favorite, because he's a starter already – but he's not that great and now you're asking him to take on top coverage.
Chester Rogers (1-6-1/2) might be more the answer…a reliable veteran WR.
Cameron Batson (1-13-0/1), I think is the most talented of the three but is probably the 3rd most likely option here.
Really, none of them appeal. Tennessee will probably throw 20 times and run 40-60 times and try and subdue the Jets. And of the throws, Derrick Henry and the combination of TEs might be the leading targets.
 -- The Titans snagged DE Ola Adeniyi (4 tackles, 1.5 sacks, 3 QB hits) from the Steelers this offseason, and he has 2.5 sacks his last 2 games and 4 QB hits…all in only 40 snaps played this season.
He played 8 snaps Week 1. Then just 3 snaps Week 2 (and got a sack). Mike Vrabel said he earned more playing time this past week), so 29 snaps Week 3 (48%) and he got 4 tackles with 3 QB hits along with 1.5 sacks here…granted it's the corrupted Colts O-Line.
I isolated on him some on this re-watch…he's a try hard, instinctual pass rusher but not overly gifted (physically). But he faces the bad Jets O-Line this week, so maybe another sack or two Week 4 coming? We'll see. Just noting his QB hits per snaps played are off the charts for The Computer right now, so I'm at least spotlighting it.
 -- Just a side note…the Titans-DST is really not bad…promising. They got pushed by Arizona and Seattle Weeks 1-2, not a crime. They held Indy down here. Consider they are OK but have JAX 2x, IND, NO, HOU 2x, NE, PITT, SF, MIA as 10 of their next 14 opponents. They have the Jets this week!
Week 6 BUF, Week 7 KC, Week 9 LAR is a nightmare…then all solid/favorable matchups around that the rest of the season.
Snap Counts of Interest:
53 = Westbrook-Ikhine
34 = Julio
28 = Chester Rogers
27 = Batson
08 = AJ Brown
44 = Swaim
37 = MyCole Pruitt
21 = Hudson
34 = Hines
29 = J Taylor
57 = Pittman
54 = Pascal
49 = Parris
35 = Doyle
28 = Alie-Cox