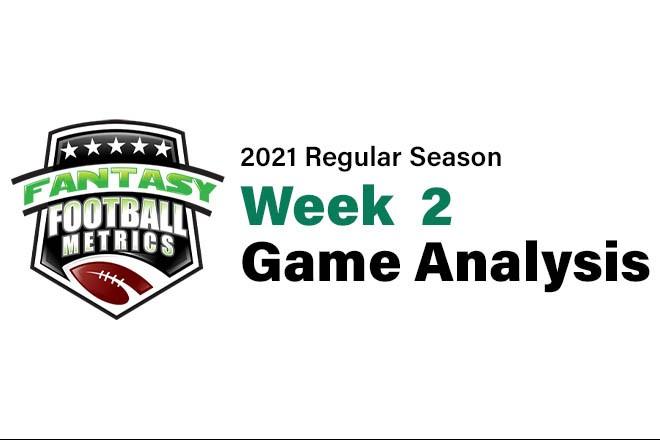 R.C. Fischer
FFM
23 September 2021
2021 Dynasty/Fantasy Game Analysis Week 2: Patriots 25, Jets 6
The Patriots throttled the Jets by three scores. Zach Wilson is now the most media hated starting QB in the NFL, now that Andy Dalton is gone, after tossing four picks to the Pats.
I rewatched this game to study what went wrong with Wilson, but I walked away thinking – the Jets may be my new favorite team of the future. Also, the Patriots are not more talented than the Jets…more experienced, but not more talented.
The story of this game happened in the 1st-quarter. On the very first drive, second play, the Jets stripped a fumble away from NE, which set them up in great field position right away – only a totally B.S. whistle called the ballcarrier down by progress…a very fast, unneeded whistle…unless you're on the Belichick payroll.
Zack Wilson then started throwing picks…passes off the hands of his receivers that pleasantly, gingerly floated into the air right to a defender on the first one and off the hands ricocheted right into the deep trailing DB on the second.
The Jets would halt drives, and then some ticky-tack penalty would extend it for NE. The Jets would be driving and a penalty would push them back.
With everything going their way, including three 1st-half picks, the Pats only led 13-3 at the half.
The Patriots were then able to play small ball the rest of the game while the Jets flailed away in vain until the merciful end. The Patriots played better football, but the Jets were the aggressors…the ones the Pats had to adjust to, and bob-and-weave from. The turnovers threw cold water on everything for NYJ – and we'll get into those turnovers/Wilson first up in the next section.
Fantasy Player Notes…
 -- So, I re-watched this game from the perspective of Zach Wilson (19-33 for 210 yards, 0 TDs/4 INTs) – I wanted to see how bad it really was. Was there a problem with Wilson that I missed? Is he terrible? Was it the genius of Belichick?
My main notes…
1) It was not anything special Belichick was doing…like some master chess player. Tipped/off hands picks combined with Wilson trying to make miracles happen because his offense is stuck in mud, for reasons we'll get into.
2) The Jets have a terrible O-Line for pass protection. The Jets are the 2nd-most sacked by % of pass attempts team in the NFL, just behind the worst = Cincy. Wilson rarely ever gets the chance to set his feet in a clean pocket and survey and throw. He's constantly avoiding, moving around, throwing on the run (for his life).
3) The Jets have the worst WR group in the NFL. The Jets have the worst receiving TE group in the NFL. When Wilson does have time, no one is ever open.
4) The bad O-Line. The garbage passing game weapons. A good Patriots defense – it all left Wilson, for a 2nd week, scrambling for his life and trying to force plays/throws because he's trying to win games. Wilson's 4th pick was a 2nd and 28 airmail trying to make something happen. He should've done the typical screen/short stuff to try and chop the 3rd-down into something more reasonable…but I get what he was trying to do.
Wilson needs to learn that it's more important not to have turnovers than it is to try and win games – seriously, NFL coaches would rather lose than have a turnover (all but one of them). I'm not joking. They live to not turn the ball over…as Tom Brady bomb's away and wins a Super Bowl and about to win an MVP by pressing down on the accelerator by default. Wilson had a number of errant throws in this game, but they were mostly under duress and him trying to make something happen because the Jets were hanging around despite all the negatives that had happened…and WRs rarely open with a window to even throw to.
I walk away from this not dismayed by Zach Wilson at all, but the media is killing him. The NY newspapers and talk show hosts are already debating getting Spencer Rattler or trading for Deshaun Watson. Why? Because they are all idiots that overreact to everything like spoiled babies…or like us Fantasy Football owners who just lost a game the week prior. And like I said in January – the media is going to hate Zach Wilson because he's hate-able.
With all that, the 4 picks, the fan tantrums, and the media assault – in Dynasty, this is the week to go get him for close to nothing. You don't pay fair value for this – you try to steal it from those who take their FF cues from local sports talk radio or ESPN or State sponsored NFL Network. Wilson might as well be cut by his Dynasty owners today…go trade for him on super low valuation…but don't telegraph it, wander into it. He's an investment for 2022+.
 -- While the media hails Mac Jones (22-30 for 186 yards, 0 TDs/0 INTs)…but look at his stat line here. You thought the Jets defense was a great matchup, but they are actually feisty-good and Jones was sacked three times, had all his should've-been picks dropped – and that's within playing a turtle-hiding-in-his-shell style of QB play rife with an average air yards on pass attempts of 4.0.
Wilson has a 9.0 air yards per pass attempt this game. Wilson is 5th in the NFL in attempted air yards on his passes (just ahead of Allen-Brady-Carr-Rodgers-Mahomes). Mac Jones is 30th. That doesn't end the debate – I'm just saying Wilson is trying to push the ball while Jones throws everything to James White.
If Wilson learns to play more of Mac's style…things may open up more for him as needed. Right now, Wilson is playing like rookie Brett Favre. Mac is playing like rookie Tua…in 'safe play' terms. Mac is way better than Tua, but still very scripted/safe..
You're screwed if you own any NE WR/TE because Mac is only interested in passes to James White (5-20-1, 6-45-0/6). As the Patriots try to out-safe their opponent on their way to victory. The Jets are two WRs away from being better than the Patriots…and Becton back on the O-Line.
 -- The most interesting revelation in this game…
Michael Carter (11-59-0, 2-29-0/3) IS no joke…and he's just arrived. You should go trade low for him, if you can ASAP. He might be about to go James White times two for the Jets ahead.
White gets a few carries and leads the team in targets. Carter is about to be 8-10+ carries split rushing role with Ty Johnson plus Carter getting 4-6 catches in games when Wilson is reeled in to play it safe versus always gunning it. This is my prediction, not a guarantee.
If I'm right, or close…it's a great buy low moment as people think the Jets stink and Carter is a rando change of pace satellite back. He is not, potentially.
Carter looked lost in the preseason, fell to #4 in the rotation for a spell, barely touched the ball Week 1…so, I thought he was nothing to even think about. One game in, credit to Robert Saleh, he abandoned the not-working RB plan of Week 1 and started Ty Johnson (12-50-0) Week 2 and went heavy with Carter…and it was much-much better. The backs combined for 31 carries for 152 rushing yards…4.9 ypc against the vaunted Pats defense.
I want in on Carter stock, cheap (not chasing at fair or full or over price), this week to get ahead of it – for those who are RB desperate and looking to make wild trades for Derrick Henry now (so timely) and whining about Antonio Gibson or Saquon Barkley (and you should), etc. Instead of trading your whole team for one mega-RB…why not eat the elephant one bite at a time. You add Cordarrelle (like you already have), you work with James White for a while, you buy low on Edmonds-Montgomery or here with Michael Carter. Build a committee, cheap, without trading your entire team to solve one issue, creating three others.
 -- Did I mention Jets WRs are hot garbage?
I was excited about the first two games for Braxton Berrios (7-73-0/11)…6.0 catches on 9 targets per game so far…you'll take that from a nobody WR. However, watching this game back – I forgot to factor in that Berrios kinda sucks. When Jamison Crowder returns…this all goes away, I'd guess.
Oh, and Elijah Moore (4-47-0/8) has shown me nothing yet. Maybe it's coming but I'm not impressed so far. It's still early but in a battle of the rookie Moore's – take Rondale all day long.
 -- Did I mention how good the Jets defense is?
#10 in yards allowed and PPG allowed despite all the offensive issues.  
This defense is flying to the ball and striking big hits. It's the most energized defense in the NFL aside from Arizona.
Rookie SAF Michael Carter (8 tackles, 1 TFL) looks promising…averaging 6.5 tackles, 1.0 TFLs, 0.5 PDs per game so far.
And they STOLE my man Quincy Williams (5 tackles, 1 TFL) off waivers…another brilliant Urban Meyer move. Williams is now starting and is playing well.
Before you get too excited about the Broncos/Teddy & Friends this Week 3…the Jets are #10 in passing yards allowed, and best in league (tied) for the least amount of TD passes allowed (1).
The first person to notice this ahead – credit to Ross Jacobs who told me to be careful on Sutton, etc., this week because of that Jets D. The Jets D isn't great…but they are OK/scrappy good. Denver may be OK enough this week, but this is not the patsy Jets defense you think.
 -- Ja'Whaun Bentley (9 tackles, 1 TFL, 1 PD) made a statement to be the full time starting ILB for the Pats this year. He was everywhere in this game…but the Jets still ran for 152 yards/4.9 ypc. So, I'm not 100% sure he's safe as a starter.
Josh Uche (3 tackles, 2 sacks) now had 3.0 sacks on the season. Someone mentioned him on the Sunday morning Week 2 Video Q&A – kudos to whomever that was. Identify yourself this Sunday so I can commend you!
Snap Counts of Interest:
57 = Elijah Moore
53 = Corey Davis
43 = Berrios
20 = Jeff Smith
16 = Keelan Cole
33 = M Carter
33 = Ty J
07 = Coleman
48 = H Henry
29 = Jonnu
29 = J White
29 = Dam Harris
05 = JJ Taylor