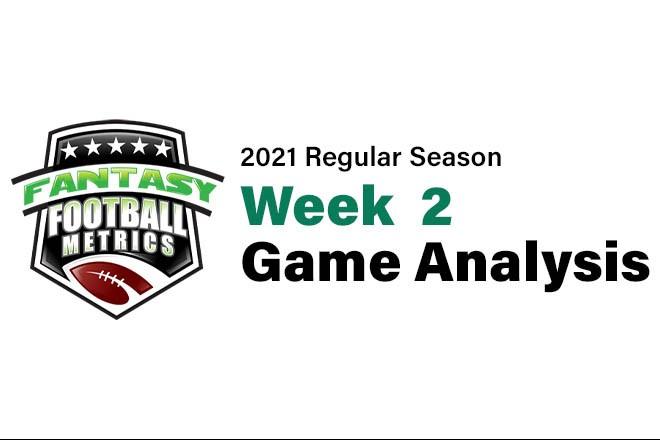 R.C. Fischer
FFM
20 September 2021
2021 Dynasty/Fantasy Game Analysis Week 2: Washington 30, Giants 29
‍
Washington was lucky to sneak out of this game with a win. The Giants mostly outplayed them all night, and yet the game came down to a Washington field goal attempt that went wide but a penalty was called on a Giants player that barely jumped before the snap and Washington got a second try that they hit for the win.
The loss of Ryan Fitzpatrick might sink this Washington team, but they have a few other problems that we'll talk about too. The Giants just aren't a very good team. They certainly tried here but couldn't even manage to close out the game against a failing Washington with a backup QB. Sad. It's another 5-6 win season coming for New York. Washington might not be a whole lot better.
--Fantasy Notes
Don't start worrying about Antonio Gibson (13-69-0, 2-4-0/2) just yet. He looks fine as a talent/runner. It's just that this offensive line isn't great and the Giants have a pretty good run defense. He might have had a TD here but it happened to come during a 2-minute drill where JD McKissic (4-10-1, 5-83-0/6) is the preferred option. This is still Gibson's backfield. I'm not sure he's going to get the same TD count as last year now that Fitzpatrick is gone, but he should get a decent workload. He's a backend RB1 or high RB2 at worst.
McKissic had a nice line but he's much less a part of this offense than the past couple years. He's still the 2-minute guy, but his role outside of that is pretty much nil. Most of his yards came on Washington's second to last drive in a hurry-up situation where he got matched up with a LB and got open for 56 down the right sideline. He's a spot-filler RB3 at best.
You know who is a really, really good player that rarely gets mentioned as one of the top players at his position? Terry McLaurin (11-107-1/14). I've been beating the drum for this guy since last year and I'm not going to stop. He's right up there with Allen Robinson as guys that have had to play with some crap QB's and yet they still manage to produce. I'd love to see what he could do with Fitzpatrick. You're not going to be able to count on him like this every week because Taylor Heinicke (34-46 for 336 yards, 2 TD/1 INT) is limited, but he's the #1 target by a large margin.
Speaking of Heinicke, he's not a bad backup by any means, but I am concerned about this offense against better defenses. I thought he looked worse than he did at the end of 2020, lots of one read and fire type passes. The Bills are up next and that defense is not going to suffer this type of weak passing game.
Heinicke's next look in the passing game is Logan Thomas (5-45-0/7) and Thomas, like McLaurin, looks fantastic. He has really built himself into one of the best TE's in the game. Why did you have to get hurt Fitz, why? Thomas will have his moments, but Heinicke is going to hold him back from getting into the top rung of TE's for fantasy. Unfortunately we're looking at a middle of the pack TE1, which is fine but not the top 3 guy we were hoping for.
Out of all the talented pass catchers Washington has accumulated over the past couple years it is Adam Humphries (7-44-0/8) that has ascended to the #2 WR position. He's the safe, slot option that every team has finally started using. You'll get moments of WR3 work with him.
After those three we're left with the underwhelming Dyami Brown (3-34-0/6). He just sucks so bad I can't believe he's a part of an NFL offense. He'll probably stick around for 2 more years like a Mecole Hardman before the team finally gives up on ever making anything out of him.
One guy that RC and I have made fun of an awful lot is Daniel Jones (22-32 for 249 yards, 1 TD/0 INT, 9-95-1) and for good reason. He's a limited QB and probably not going to last much longer as a starter. But...he looked ok here. Most QB's can when they are given this much time to throw. We'll talk about Washington's defense in a minute, but Jones took what was given to him. It was a nice fantasy day but one he's not going to replicate often. He always has an ok floor because he's a sneaky rusher, but he isn't getting 90 yards and a TD every week Lamar Jackson style. He might next week against a bad Atlanta defense though.
Do we have a Saquon Barkley (13-57-0, 2-12-0/3) problem? I'm going to disagree with RC here and say no. He looked just fine to me and the offensive line is playing better than the past couple years. They still aren't great and Barkley still doesn't have great instincts so he gets stuffed for a lot of short runs, but he looks just as explosive as ever and will usually pop a couple of long runs to save his day. So long as his volume continues to increase as they get him closer to 100% I think he's going to be just fine. The Falcons are a lovely spot for him to return to normal next week.
Seems like Sterling Shepard (9-94-0/10) is working well as a safe slot option for Jones. Expect those numbers to come back down to earth as the season wears on and teams adjust. He's good and a nice WR2 play most weeks.
Kenny Golladay (3-38-0/8) was seen visibly angry and yelling at Jones on the sideline. Hard to blame him since Jones struggles hitting anything that's not a short checkdown. He's getting looks but this just isn't a good offensive fit for him in my opinion. Golladay needs a QB with a strong arm that can hit him down the field in 1-on-1 coverage. That's not Jones's forte. I don't think this situation is going to get much better, but since Golladay threw a huge fit here and the team is paying him tons of money I wouldn't be surprised to see him get 12+ targets next week against the Falcons.
Darius Slayton (3-54-1/6) is yet another underrated WR being wasted by Jones. He's such a good downfield threat. Not to beat a dead horse but Jones just doesn't do those types of passes well. If this team gets a decent QB in here next year this offense has some really dangerous pieces, especially if they can ever get Evan Engram healthy.
Want to know the best, most secret, greatest receiver ever on this team? Well it sure as hell isn't Kadarius Toney no matter what Gettleman and Urban Meyer think. The fact that those two bums both wanted him is all I need to know to stay far, far away from Toney. What a complete joke. He was a ghost here and I don't see that changing anytime soon. I won't be the least bit surprised if he's out of football in two years.
--IDP Notes
Ok, so what's going on with Washington's defense? RC already covered this in some detail, but it's obvious that they aren't the suffocating unit we suspected they might be. They did give up 26 points here (3 came from a FG on a short field after a Heinicke INT) but it was only 2 TD's. The Giants were driving pretty well all game but Washington usually flexed up and stopped them short for a FG, a couple of them quite long.
They don't look bad per se and it's hard to really put my finger on what the issue is. I think RC might be correct that the root of the problem falls at the feet of Chase Young (3 tackles, 1 tfl). He just doesn't seem to be getting the type of pressure you would expect from someone of his talent and pedigree. I watched him closely all game and he was mostly getting handled by Nate Solder. There were moments where he won but it was usually against the run. When he was rushing the QB though, Solder was able to just carry him past the play or else he was stonewalled at the line after another player helped chip him. I didn't see any great moves or the explosive athleticism and his effort seemed to be rather low if he didn't immediately win. I fear that means we are indeed getting the Jadeveon Clowney treatment again as RC theorized.
The other problem I think I see is that the team seemed to be dropping Montez Sweat (3 tackles, 1 sack) into coverage an awful lot. I might be mistaken about that but it sure seemed to be happening a lot. Sweat already rotates out of the game far too often for my tastes, so if he's not getting high pressure due to his role and Young isn't getting pressure because he's a diva, then that just leaves the DT's (who are great) to try and disrupt the QB. Allen and Payne are very good players, but it's much harder to get consistent disruption from inside.
If Washington isn't getting the same type of heavy pressure we saw last year then it's going to cause problems no matter how good the rest of the defense is. There is hope however that they get this issue figured out. If they do this defense could easily come roaring back. You can't play them against Buffalo next week, that's for sure. I'll be watching for signs that they are getting back to normal and perhaps we can grab them ahead of a turn, possibly after the schedule eases up the second half of the year.
I don't think I need to mention that Blake Martinez (12 tackles) is one of the best run defenders and best IDP LB's in the league, so I won't.
Kendall Fuller (8 tackles, 1 sack, 1 pd) had a great fantasy game covering Shepard in the slot. He won't have tackle counts like this most weeks though. It was purely because Jones was taking the short safe throws all day.
James Bradberry (7 tackles, 1 pd) went toe-to-toe with McLaurin, won a few and lost a few. He gave up a TD but also jumped a Heinicke pass late and picked it off which ended with a Giants FG that temporarily gave them the lead. He's still a very good corner and I wouldn't expect him to get beaten quite so much most weeks. Calvin Ridley could be in for another long day next week.
Jonathan Allen (6 tackles, 2 sacks) had himself a day inside. He's one of the better DT's in the league right now but probably not the very best. It helps when you're facing a QB that holds the ball when his first safe read is taken away.
Cole Holcomb (6 tackles) looks as good as ever. His fantasy numbers will go back up when he faces more run-heavy teams. Not a good matchup for tackles next week against the Bills.
Next to Paulson Adebo, the rookie corner I've been most impressed with is Benjamin St. Juste (3 tackles, 1 pd). He's really jumped right into the starting lineup and held his own. Nice solid find by Washington in the 3rd round.
‍
--Snap Counts of Interest
71 = Logan Thomas
71 = Terry McLaurin
62 = Dyami Brown
50 = Adam Humphries
43 = Antonio Gibson
31 = JD McKissic
64 = Sterling Shepard
58 = Kenny Golladay
39 = Darius Slayton
19 = Kadarius Toney
58 = Saquon Barkley