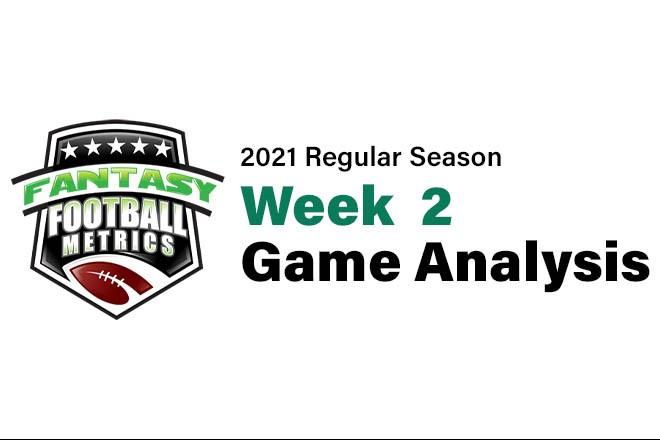 R.C. Fischer
FFM
22 September 2021
2021 Dynasty/Fantasy Game Analysis Week 2: Cowboys 20, Chargers 17
If you told me (pregame) that Dak Prescott went to L.A. to face the Chargers, and threw no TD passes with 237 yards passing – I'd tell you the Chargers probably wiped the floor with Dallas. Instead, the Cowboys somehow won this low scoring game on a last second 50+ yard FG.
It's the second week in a row that the Chargers offense moved the ball fine and then crapped themselves near the red zone. If it isn't a penalty negating a TD, it's a dropped pass or a turnover or some other kind of TD-killer. If LAC fixes their red zone issue (which is more odd events than execution failures), they will win 10+ games easily and possibly be a threat to the Chiefs for the AFC West.
Had LAC pulled out this game, I would have considered LAC possibly the AFC West favorites over a now (1-1) KC team, but the Chargers blew a golden opportunity here.
It's the second week in a row that I walk away thinking – Mike McCarthy and Kellen Moore are really coaching well…clever play calls, smart adjustments, going for it on 4th-downs. Another week where I walk away thinking Dallas will win the NFC East if Dak stays alive.
Fantasy Player Notes…
 -- I mostly rewatched this game to see what was up with Justin Herbert (31-41 for 338 yards, 1 TD/2 INTs) – two INTs in a game…just one TD pass but back-to-back 330+ passing yard games? What gives? I thought this guy was the next end-all-be-all?
My judgment is – everything is fine. Herbert looks good but has had some bad luck. He lost a 45-yard TD pass to some BS penalty call not helping the play at all. His 2nd INT here was an end zone timing pass to Keenan Allen, only Allen slipped and fell making his cut and face planted so the ball went straight to a DB…might have been a TD otherwise. Herbert also had a Cook TD pass get taken away.
For the 2nd week in a row, Herbert SHOULD'VE had 2-3 TD passes to go with his 330+ yards passing.
I'm a buyer of all the Herbert I can where I don't have Mahomes-Kyler…or maybe Brady (redraft/6pts).
No reason to panic.
 -- What's interesting from watching Herbert here…how Mike Williams (7-91-1/10) is pushing towards becoming his #1 WR. I still think Keenan is his guy, but the design of the offense and the attention Allen gets…it's freeing up Williams to do damage.
And not only are the circumstances in his favor, in general…but Williams looks terrific. I've never seen him so spry, so quick on his feet. It's almost like he knows he has a big free agency coming up. He's on his way to a mega contract at this rate. No more 'sit-start' debates on Williams – it's a START until further notice.
We all look back at our redrafts and kick ourselves for things (never congratulate ourselves for great picks or great avoidances) – my main boogeyman thought from August redrafts? I got a lot of Mike Williams all summer, but in August redrafts, a few times, I'd let him sit out there as I took some stupid RB or whatever and I'd keep saying…"I'll get Williams next round," and then I'd bypass and say it again…and again…and then someone would take him and I'd be mad but then right back to chasing fairy tales. I'd like to punch that version of myself in the face for passing up on one of the best pure value picks of August/redraft 2021…and I was all over it all summer, and in most redrafts but the ones I missed/skipped…I hate myself.
We all have redraft regrets. That one is my main one. It was so simple…it was right there as such a value and I knew it, but I shrugged at it because I needed a thousand more RB lottery tickets (who are all hurt or cut from my rosters already).
 -- Tony Pollard (13-109-1, 3-31-0/3) had a heck of a game here but note he is still only working 25-35% of the snaps…and Week 1 he had 3 carries for 14 yards. I'm not sure I'd say he's a 'start' just yet because he had a hot Week 2. He looks great, but the allure of Zeke (16-71-1, 2-26-0/2) is still so strong over that whole organization that Pollard will always be 'the other guy' until EE gets hurt/down-and-out.
I hope Pollard gets more run, but this is probably his 2021 lot in life…a 70/30 snap share split and best case 60/40 touch count split…with Zeke as the 60 or 70. It's a fluid situation…I could change my tune if we see another closer to 50/50 split Week 3 again.
 -- Brandon Staley coached/coordinated the Rams 2020 to the #1 defense in the league last year. He's brought that magic to the other L.A. – this Chargers defense is very smart/good. They are #7 in PPG allowed YTD and they just held Dak Prescott to 237 yards passing with 0 TD passes…that's no small feat.
The Chargers defense is a potential top 5 in the league, but their schedule ahead is not great pre-Week 7 BYE. Mahomes-Carr-Baker/CLE-Lamar the next 4 weeks…QBs who do not allow big points to opposing DSTs due to their solid O-Lines or ability to not get sacked/turn the ball over at a high rate.
The LAC-DST could be a thing after their BYE Week 7 for sure. If they throw Mahomes fits this week…then everyone is going to be on them Week 4.
If you're thinking there have been 5-8 teams I've named as potential top 5 DSTs for 2021 this past week, then you're correct. That's where we are in the NFL/FF…there's several top defense candidates – but no obvious slam dunk/elite ones. Probably trumping everything/every metric/every analysis to be the best defense in the NFL is: 'What defense is facing JAX or HOU this week?'
I think Arizona shows the most 'it' for a defense (to me) – but when they face a better offense, we're at risk like with all DSTs (see: Week 2 v. MIN compared to Week 1 v. TEN). There is no Bears 2019 DST or DEN 2017-2018 DST right now…and maybe with the league having so many great QBs now that there will never be a great DST again.
This is a two DST season…one you have a strong hunch/analysis/scouting on (ARI, CAR, NO, BUF, etc.) and the one you see ahead next week and the week after that's playing HOU-JAX-MIA…NYJ-NYG, etc., to use in a pinch when your ace DST has a bad or weaker matchup.
 -- The Dallas defense isn't a threat for the top 5 in the league, but they aren't terrible…and they're young and improving. If they didn't lose Demarcus Lawrence, they might be a defense that hit a decent stride in a few weeks…but losing Lawrence was rough.
They moved Micah Parsons (2 tackles, 1 sack, 4 QB hits) to the edge rush spot in Lawrence's place…and that's not a bad stop gap at all, but things would be better with Parsons back at LB and Lawrence off the edge.
That Parsons DROY bet looks even better with him making this positional move…it shows his flexibility on top of everything else – how many guys could be a rookie signal caller Week 1 at linebacker, then move to rush end Week 2 and get 4 QB hits?
 -- Jayron Kearse (6 tackles, 1 TFL, 1 PD) has stepped up nicely with the Donovan Wilson injury, Kearse is averaging 8.5 tackles per game his first two games as a new starter. He's looked very solid and energetic, but I assume Wilson takes right back over upon his return from groin injury.
Snap Counts of Interest:
42 = Cook
34 = Parham
44 = Zeke
21 = Pollard
45 = Schultz
29 = Jarwin
60 = Lamb
60 = Amari
36 = Ced Wilson
45 = Ekeler
16 = Justin Jackson
10 = Roundtree