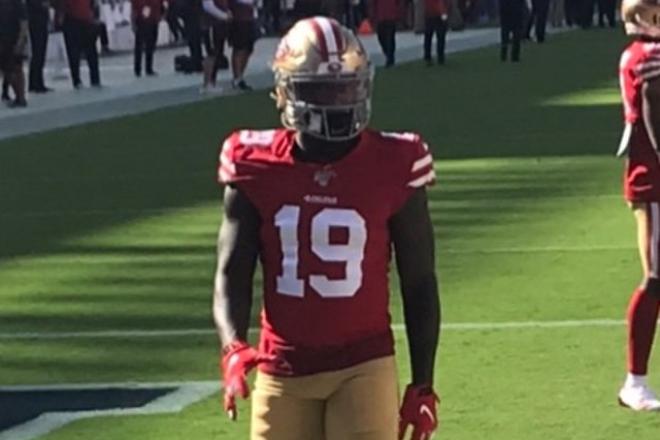 R.C. Fischer
FFM
22 March 2022
2022 Finding 'The Next Deebo' (Tampa Bay vs. Carolina) -- March Madness Tourney
Same Intro each day: We all know what the phrase 'next Deebo' means – a player who works at one position primarily but takes on a second position (in-game) beyond just a random 1-2-3 carries or targets…that they become a real dual-threat option for their team, and thus a great producer for Fantasy Football.
Before there was 'Deebo' (midway through the 2021 season), there was 'Cordarrelle' as the breakout WR who started also taking a good workload at RB…so much so he became the team's lead RB, but then got all but dropped on his WR aspect.
Before 'Cordarrelle' there was Curtis Samuel trying to breakthrough as a 'nails' WR in 2020, but also a guy taking 3-5 carries a game in CMC's absence and looking like he might make the turn – but then he went to Washington in free agency, got hurt, and barely played/impacted in 2021.  
Before Samuel there was everyone looking for the 'next Tyreek'. We might forget that Tyreek started out as a low target WR taking 1-2 carries a game, and then taking every carry for a 50+ yard TD…then he was converted over from random WR/RB to main WR, and they stopped pushing him in the running game the past two years (definitely don't get that guy the ball more, whatever you do).
We've had some promising guys try to breakdown this 'Deebo' wall, but Cordarrelle really was the one who kicked in that door to start 2021 season (then ATL went away from it)…after the door was kicked in, then Deebo ran right through it 2nd-half of 2021 and became the ultimate/best dual threat of our lifetimes – so much so every analyst is running around saying certain players 'can be their Deebo', and you're going to get sick of hearing about it they say it so much now. But credit to Deebo (really, credit to Kyle Shanahan) the 'Deebo' role is a thing now…I think some teams are going to copy because of its success, as they should…as they should've created it years ago. It's the evolution of the game – players/weapons who you don't know where they're gonna lineup or what they're going to do, and they'll draw plenty of mismatches to expose.
With that in mind, we're going to have a 'next Deebo' tournament/FFM daily series for the next few weeks during March Madness time.
I am going to nominate one player from each NFL team to be the possible 'next Deebo'…the 'their Deebo' hopeful. I'll explain why I choose that player, and why not others if there was a close option – and then like March Madness, we'll pit two of them against each other/state the case and I'll choose a winner…the one most likely to be used as 'the next Deebo' for the 2022 season.
We'll go by division, matchups by 2021 record (so #1 v. #4, #2 v. #3 in the division), one matchup/winner declared each day into April until we have one AFC rep and one NFC rep and then we'll declare a final 'Super Bowl of Deebo' winner.
Now, San Francisco has their own Deebo already…so he is not in this tournament. For the SF slot, there will be a play-in game between two current draft prospect options. Unsigned free agents will be an option for the team they were last on in 2021, so like a heavy Final Four favorite, but current free agent (as of this writing), Cordarrelle Patterson, will be an option for Atlanta. Got it? Good. Let's go…
Today's Matchup = NFC South: TB vs. CAR
WR Russell Gage, TB
vs.
WR D.J. Moore, CAR
I had a hard time figuring out who to nominate from the Bucs…there wasn't really a prototypical option. Fortunately, they signed Russell Gage right before I started this section…and I had something to work with, at least, here.
Gage is quite an amazing story. Went to LSU as a DB/CB and was barely used as a freshman and sophomore (one game played total). In his junior year/2016, he converted to WR and made just 5 catches in 7 games.
His final college season…here's where it gets interesting – still lowly used, but he was playing as a starter now…the low output was due to the utter garbage at QB/on offense for LSU at the time. Gage caught 21 passes for 285 yards and 3 TDs…3 TDs tied for the best on the team that season. But he also took 28 carries for 232 yards and a TD. He had more carries than catches his final college season, his only real season of play.
Gage winds up a 6th-round draft pick in 2018 and toils away as a rookie in obscurity in Atlanta early on. In 2019, he started seeing more action…49 catches, but also 4 rushes…4 rushes when it wasn't as common, but was an emerging thing for a WR to get jet sweep action. In 2020, a further rise to legit as a WR, and he had only two carries on the season…but we also discovered he's a hack of a passer – went 1-of-2 for 39 yards and a TD. His incompletion was a 50+ yard TD bomb on the money to Julio Jones, who dropped it in the end zone.
Given that Gage showed ability as an 'athlete'…a great possession receiver, a nice jet sweep runner, and a wildcat/trick option QB, it only made sense that Arthur Smith (the worst offensive mind in football) would come in as new head coach in 2021 and did not have a running play or throwing play for Gage. And because the Falcons are terribly run, they just let Gage slide right out of town right to the division rival Bucs to help them further Tompa's chances to win a Super Bowl.
Carolina has thrown some random 'Deebo' type action at D.J. Moore…29 carries for 282 yards and 0 TDs in four seasons…a robust 9.7 yards per carry. DJM has the right build for this 'Deebo' thing – 6'0"/210, and we know he is athletic. However, as I've watched Moore over his career…he's played more like a 'solid' but too tentative WR more than a bully demanding the ball. He's a perfectly solid/fine NFL WR, but I think he's been a disappointment given his draft stock and measured athletic skills. In his final 11 games of 2021, DJM saw carries in two of the 11…Matt Rhule not really on fire to push the boundaries on getting DJM the ball in unique ways.
However, now that 'Deebo' has become a thing…which of these two situations offers the better 'Deebo' hope for 2022? Will Rhule push Moore (because he has little else going for him on offense) or will Bruce Arians hop on the 'Deebo' train and push Gage in that role?
I don't believe either of these coaches are actively looking to copy the trend…that is the main issue here. Gage would be my personal choice to run it with, if I were a GM/HC, but picking/projecting reality, I'll favor D.J. Moore as the winner to advance here because I don't believe the playbook will change at all for Tampa Bay/Arians, especially with Tom Brady in charge…so, by default Moore moves on – because at least he saw 8 carries last year, there was some glimmer of hope here.
WINNER = D.J. Moore, who goes on to the Sweet 16 to face the winner of tomorrow's matchup of the Saints-Falcons.